Since 1988, Marine Trader Co. Ltd., have been handling with chartering and Sales & Purchasing (so called S&P) business as well as consulting of all kinds of vessels i.e. Container vessel, Bulk Carriers, Tankers, Pure Car and Truck Carriers (so called PCTC or PCC) and others with information network.
One of the major fields where most active and unique is the car carrier business. Since its establishment, we have been playing an important role for which high reputation is given from home and abroad. We are also one of the leading Sales & Purchasing brokers in Japan not only selling Japanese controlled vessels but also purchasing from abroad.
While global economy being unclear, the shipping logistics is diversifying with complexity. We will develop our business globally, changing into the future and try to make a social contribution as a member of the shipping industry.


Corporate Profile
Company Name

Marine Trader Co., Ltd.
Representative

President Narichika Tokuda
Address

Daiichi Nakamura Bldg. 4F, 2-8-10 Shinkawa, Chuo-ku, Tokyo 104-0033, Japan
Telephone

(main switchboard) +81 3 3297 4408

Fax

+81 3 3297 4405
S&P Group :

+81 3 3297 4404
Car Carrier Group :

+81 3 3297 4401 / 4402 / 4403
Accounting & General Affair Group :

+81 3 3297 4408
E-MAIL

S&P Group :

snp@marine-trader.com
Car Carrier Group :

car@marine-trader.com
Accounting & General Affair Group :

mtc@marine-trader.com
Established

8th August, 1988
Capital

JPY 17,250,000 (as of Oct.1 2011)
Board of Directors

Chairman, Mr. Hirohiko Yamada / President, Mr. Narichika Tokuda/
Director, Mr. Kazuaki Owada / Part-time Auditor, Mr. Haruo Nishimura
Number of employee

12
Description of business

Shipbroking and Consulting
Participating Association

The Japan Shipping Exchange, Inc.
Japan Shipbrokers Association
Financing Bank

Yaesudori Branch, Bank of Tokyo-Mitsubishi UFJ
Main Client

Nippon Yusen Kaisha, Mitsui O.S.K. Lines, Kawasaki Kisen Kaisha, Nissan Motor Car Carrier,TOYOFUJI SHIPPING CO., LTD. , Hoegh Autoliners AS, Oslo and other domestic and international shipping company
Organization chart

Access
History
8th August, 1988

Marine Trader Co., Ltd. was founded in Shintomi-cho, Chuo-ku, Tokyo with capital fund of JPY 10,000,000. Business started with chartering Dry Bulker and Car Carriers and Sales & Purchasing all kinds of vessels.
June 1997

Along with business expansion, we relocated our office to Shinkawa, Chuo-ku, Tokyo
February 2004

Capital fund increased from JPY10,000,000 to JPY12,750,000 as business performance improved
October 2006

Capital fund increased from JPY12,750,000 to JPY17,250,000
August 2013

Celebrated 25th anniversary

Sales & Purchase Group
Sales & Purchase Group is mainly handling Sales & Purchase of new buildings and 2nd hand vessels, chartering and demolition activities. The group deals with any type of vessels from big ocean going vessels to small coastal vessels.
Sales & Purchase deal starts up with ship inspection.
Including operational jobs such as documentation works and obtaining required certifications, the group offers excellent skills to bridge the customers.
The group welcomes new projects (new building & chartering) as well.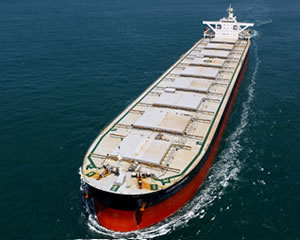 Car Carrier Group
Looking back, the main stream of the car export was from Japan to overseas. However, recent changes such as expansion of the global economy, gaining power of the developing countries, relocating automakers' plants to overseas in order to avoid exchange risks have brought dynamic change in the car carrier logistics.
In such process, we are challenging day by day to improve our service to our valued customers backed by 40-year-experience with wide information networks.
Car Carrier Group is mainly handling COA, management of long & short term chartering, and pursuing new business.